Rollerblade skates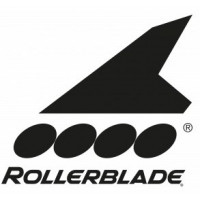 According to legends, records of skating date back to the 17th century when skates existed. A Dutchman would assemble strains of wood with a flexible spool nailing it to his shoes. By 1863, Americans gradually invented the traditional side-wheel prototype of roller skating; which became a preference for all skaters. Later in 1980, Brennan and Scott, along with their friend Christopher Middlebrook, located an in-line skate at a sporting goods mart and produced a replica of the composition they saw, which was later used at off-season hockey practice. Down in a cellar, they rebuilt the skate, experimenting on several procedures and tools, leading them to begin production of the inline skate. Struggling with a growing deficit, the corporation was later sold and ushered into a new age; having Robert O. Naegele as chairman and John Sundet as president of the company.
Overtime rollerblade inline skates rose to the polls while dominating inline skate manufacturing. The production and innovation of these blades created awareness for the company when branded products were awarded to high-profile stars and athletes to promote skating to the public. Becoming a general name for all in-line skates, the business was gradually brought into jeopardy, leading to the launch of an advertising movement to preserve its name in 1990 and shifting its marketing technique from facilitating in-line skating to brand label.
Rollerblade brand skates
In 1991, Rollerblade brand skates earned twice as much when they established a new headquarters in Minnetonka, beginning production of roller inline skates which remained low-cut with an offering of small ankle support to give the skater additional support allowing movement. From providing excellent cuff support for maximum control to anti-shock heels or pads, the inline urban skates, also known as freeride inline skates, are an excellent choice for anyone who wants overall healthy living. The cuffs act as an emergency stop tool from traffic, while the heel pads inside the shoe help you feel less jarred by bumpy roads.
Rollerblade skates USA
Rollerblade urban skates is a brand you need to look out for if you aim to professionalize your skating career as they've got everything you need to practice better. The InMoveSkates store located in the USA specializes in the supervision of the rollerblade online retailer which distributes rollerblade street skates, Protective Gear for rollerblading, as well as rollerblade speed skates for fast skating. More than protective regulations to take, and apparatus used for exercise, there is a lot of other gear that must be handy for people to experience the best. This equipment comes as both accessories & protective equipment. These defensive gear accessories range from rollerblade gear packs to helmets, necessary for adequate skater safety as well as enhancement of their experience.