Rockin frames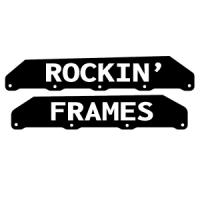 Rockin' Frames is a German brand that specializes in creating frames for a specific skating style known as Wizard/Flowskating. As one of many companies that have emerged after the original Wizard frames gained worldwide fame, Rockin' Frames stands out with its unique approach.
Unlike other brands that simply create copies of the original frames, Rockin' Frames introduces fresh ideas. Their frames are UFS compatible, but they come with a CNC-milled aluminum adapter and the required hardware, such as longer M6 and M8 bolts, to fit on 165mm spacing, raised heel mounting boots. This wider range of boot models to experiment with means you're not limited to just one mounting standard when you want to pair your frames with a new pair of boots. Recently, the German brand has started developing 165mm mounting only frames that are also compatible with 150mm and 180mm spacings, but they have no intention of deviating from their initial idea.
Another feature that sets Rockin' Frames apart is the wide range of colors they offer. Unlike other brands that only offer raw aluminum or black frames, Rockin' Frames provides multiple color options right from the start. This allows you to personalize your skates and add a spark of cheerful attitude to skating, which has become a bit too serious in recent times. After all, skating is primarily meant to be fun!