Famus wheels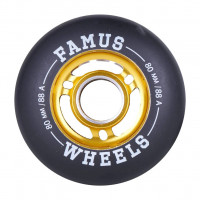 Famus Wheels, a subsidiary of the renowned French company ALK13, emerged with a visionary concept to revolutionize aggressive skating.
Over time, their scope expanded to encompass freeskating and quad wheels. While their wheel selection may not be extensive and their designs are characterized by simplicity, each wheel is meticulously crafted to meet the highest standards of quality.

The standout feature of Famus Wheels lies in their reinforced chromoly steel core, which provides an exceptional rolling experience, enhanced durability, and reduced weight.

Additionally, Famus boasts an impressive team comprising the world's finest and most talented skaters.