SMS only:
+1 (267) 607-3555
PA, United States
Checkout
Phone:
+1 (267) 607-3555
PA, United States
FREE SHIPPING


IN THE US order over $49
MONEY BACK 30 days
Free Shipping in the US

Any order that will be shipped to the lower 48 contiguous states totaling $49 or more will qualify for "FREE Economy" shipping.
How do I get free shipping?

USA: It is easy to qualify for free shipping. Just add an item or multiple items that total $49 or more to your cart and simply select "Free Shipping", and you are all set.

Canada: if your order is above 200 USD you can select "FREE SHIPPING".
Mexico and the rest of the world: if your order is above 300 USD you can select "FREE SHIPPING".
Please note, that you are responsible to pay for the usual domestic import fees in your country once you receive the product from the USA. Usually, it's around 0-25% fee's.
UPS Ground transit times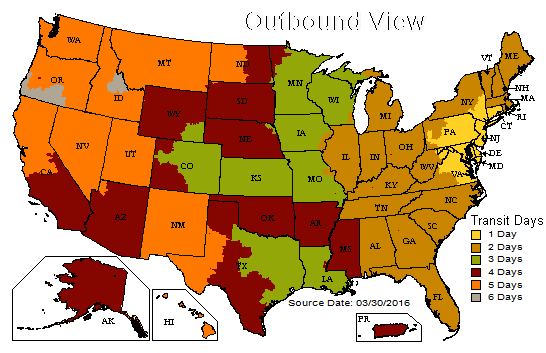 This map is a general representation of UPS Ground transit times from our Wayne, PA location where items are shipped from.
For shipping we use USPS, UPS or Fedex.
Also we can ship some models from warehouse in California. Handling time 1-3 business days.

WORLDWIDE SHIPPING
We have worldwide shipping. On checkout page choose any International shipping (FEDEX or USPS) and you will see shipping price.
We will not ship the order as a "gift" to try to avoid import charges, this would prevent us from insuring the shipment. We will declare the retail price of the items in your order.
---
RETURNS
We do accept returns for store credit or refund. We do have a strict policy for return time. If you have a problem with a product, please contact us within 7 business days of the delivery of your product. We document the delivery of all orders on your account and will not accept returns after 30 full calendar days. You are responsible for paying the shipping and insurance to get the product back to us. However, should you return the product to us you must contact us by e-mail inmoveskates.com@gmail.com or via website. Do not simply rely on e-mail as the spam filters sometimes catch e-mails and is occasionally unreliable.
In order to return skates or skating products please follow these guidelines:
Return and/or Refund:
Product must be in new, unused condition (were not used outdoor for example).
You must contact us within 7 business days for a return after you received the product. However, to return the product you have up to 30 calendar days.
We accept all reasons (for example, size doesn't fit).
You must ship the product back to us and provide a tracking number to us for proof of return.
If we made a mistake on the shipment, we will pay for the return shipping to us and send out the correct product ASAP. Please contact us to initiate this type of return.